Please Note: This post contains links to EdenFantasys.com, an online company that sells sex toys.
I am sure you all know that Eden Fantasys carries a vast selection of
sex toys
, but are you aware they also carry a nice variety of other great items too including candles, lingerie, bath & body products, and even dresses! You would be amazed by all the products that they actually offer including some of my favorites: gags & gifts. While shopping on Eden Fantasys you should check out their awesome selection of sexy Halloween Costumes, since Halloween is right around the corner. The great thing is that they are constantly getting new products in, so be sure to check back often for new styles, products, and brands.
Recently, I have noticed that
Eden Fantasys
is beginning to widen their selection of sexy dresses, which makes me very happy. I love dressing up with a passion, so it tickles me that they are getting in so many different style dresses in. And to add to my excitement, right now Eden Fantasys is offering all of their dresses and lingerie at a discounted rate making their already affordable lingerie and dresses even more affordable! Say for instance a dress usually costs $50.00, well right now you could buy the same exact dress for only $40.00, that's a savings of ten dollars! How could you pass up savings as good as that, I know I sure can't.
When I first saw the
Long White Gown
, it was definitely love at first site, so I decided I had to have it and ordered it on the spot. It also comes in black, but I thought the white colour looked so much more elegant, so white it was(plus I already have a ton of black dresses). The dress arrived packaged in plastic lying beneath a cardboard insert, which features a woman wearing the dress in both black and white. I immediately pulled it out of its packaging to get a better look at the dress.
The dress is made out of 93% Polyester and 7% Elastan, which makes it somewhat thin, so your definitely going to want to wear slip underneath the dress, and a bra as well. Speaking of which, you are certainly going to have to buy a special bra because the back of the gown is open. The gown itself is absolutely gorgeous! The silver sparkly pieces on the halter straps of the dress really set this dress off, however; I am somewhat concerned that they may fall apart overtime, but we shall see. I love the way the ruffles trail down the dress while leaving just a tad bit of openness at the bottom to allow a little bit of leg to show. The dress is classy and elegant and not at all overly revealing, although it leaves plenty of room to show a lil leg and a lil cleavage.
Instructions for care of this product:
Drip Dry
Wash Separately
Do Not Bleach
Overall, I think this dress would be great for a date night out, or even a date night in(Wink, Wink).
BUY IT:
You can purchase the White Long Gown right now on sale for only $39.99. Hurry up and get it on sale while you can because it's normal price is $49.99. Spend $59 or more and you will receive FREE shipping on your entire order. Also, remember to add your free gift to your cart.
LEARN MORE:
To learn more about
EdenFantasys.com
, be sure to visit their website, and follow them on
Twitter.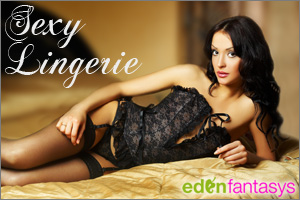 *Disclaimer - Eden Fantasys is providing me with a $55 gift card in exchange for this post. In no way did this alter my opinion of their products. All of my opinions are one hundred percent honest and true.*