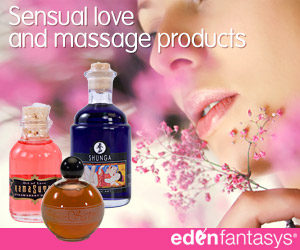 So, by now all of my lovely readers should be familiar with a spicy
adult shop
called Eden Fantasys. One of the things I like best about Eden Fantasys is that I come across products that I normally wouldn't. I recently ordered one of their
System JO glide massage oil
that I came across when I was browsing their lubricants. I noticed it said it is a massage glide, personal lubricant, and skin/tattoo conditioner all in one so my curiosity got the best of me and I decided to order it. The fact that it was on sale for only $3.99 was another reason I decided to give it a try, how could I resist since it was priced so low!
JO Glide Massage Oil is available in three different scents:
Unscented
Lavender
Citrus
When the JO glide massage oil arrived it I noticed it was packaged in a skinny 1 fl. oz. skinny tube. You may think that is somewhat small, but believe me a little bit goes a long way. It was time to put it to the test, all three of the tests to be exact so I started with my tattoo. I have a small butterfly tattoo with shutter marks on my pelvic area that I have had for about ten years now. It was the first time using any type of tattoo conditioner, so I was somewhat excited to see how well it worked.
As I rubbed a small amount onto my tattoo I noticed it smoothly glided across it and afterward felt noticeably soft. Unlike, I had imagined it was not at all greasy, it actually left my skin with a healthy looking shine. Second on the list was a massage, which gave me the perfect opportunity to get a massage from my husband, even though he's pretty good about giving me massages. Of course, that meant that I had to give him a massage too, but it was totally worth it! I was surprised by how easy it made massaging him. My hands practically glided across his back, so I didn't have to put much effort into the massage.
I also tried it as a lubricant, and lets just say it did it's job. I think the great thing about this product is (besides how well it works) is that it offers multi-uses so you get three different uses in one product. This is awesome because it saves me money instead of purchasing all three products you can just purchase the one! It's small size and shape of the packaging makes it perfect to take with you on the go, no matter if your traveling or where you may need it. I love it's fresh citrus scent but am also excited about trying the Lavender and Unscented ones as well.
Another great bonus for shopping at Eden Fantasys is that you will receive a free gift with each order, and the best part is you will be able to select which free item you would like, from a selection of saucy products including toys, shirts, and etc. The items are constantly changing, so be sure to keep checking. Last time I ordered the FREE Tee Shirt, which is a $14.99 value. In addition to that you can also sign up for a FREE account where you will be able to gain points for doing things on their site such as searches, likes on facebook, ordering products and more. You will be able to trade in your points for gift cards to buy items on Eden Fantasys. They are definitely a giving site, so be sure to check them out!
BUY IT:
You can purchase the System Jo Massage Oil for only $5.99 on
Eden Fantasys.
*Disclaimer - Eden Fantasys is providing me with a $55 gift card in exchange for this review. In no way did this alter my opinion of their products. All of my opinions are one hundred percent honest and true.*